About Advanced Cementitious Materials & Composites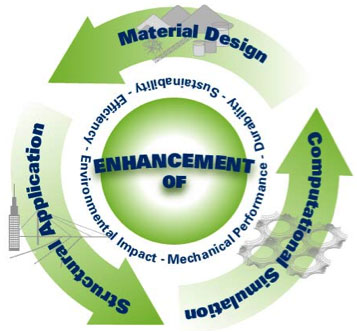 The multidisciplinary Advanced Cementitious Materials & Composites (ACMC) Laboratory links together material design, structural application and computational simulation for an enhancement in safety and quality of life.
The research effort within the ACMC Laboratory is focused on Ultra-High Performance Fiber Reinforced Concrete (UHP-FRC) in all aspects of the laboratory's objective. Some research examples include the improvement of the tensile behavior of UHP-FRC in terms of tensile strength, ductility and energy absorption, the characterization of the strain-rate sensitivity of UHP-FRC under compressive and tensile loading, the thermal behavior of UHP-FRC under heating and fire, and the rehabilitation, retrofitting and strengthening of existing concrete bridges. We appreciate your interest in our research group and invite you to browse through the website of the ACMC Laboratory. Please do not hesitate to contact us for further information and assistance.
News
Congratulations to Mandy Xu for receiving the 'Faculty for the Future' Fellowship Award for the academic year 2015-16 from Schlumberger Foundation Inc. She was also a recipient of the same fellowship for the academic year 2014-15.
Congratulations to Aileen Vandenberg for being selected as a 2015-2016 STEM Chateaubriand Fellow. This will allow her to travel to France and work closely with Prof. Nicolas Roussel (Directeur de recherche Laboratoire Navier , IFSTTAR, France — one of the leading rheologists on cement based materials) for 9 months.
Congratulations to Aileen Vandenberg for receiving the 2015-2016 ACI Scholarship.
Congratulation to Kay Wille for receiving the prestigious NSF CAREER award.